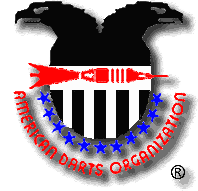 ADO News Releases

Disclaimer: This is NOT an 'Official' ADO page. This is information I have received from The ADO
and is re-printed here solely for SBDA members information only. You can email the ADO here:

adooffice@aol.com
---
Just in case you haven't read the latest Double Eagle...The SBDA has several honorable mentions.
Thanks to Bubba Darbonne for bringing this to my attention. Here's a sampling:
ADO ALLSTARS 2000 Regional Winners
Region lll-3 (That's us!)
MEN
1st Scott Wollaston
1st Ernie Comardelle
3/4 **KEN HEARN** / Ken Bayhi
WOMEN
1st Lorraine Keyser
2nd **LOU HOLT**
3/4 Kathy Swift / Terri Fountain

---
Special Achievements
Ton 70 Out
Lou Holt
lll-3 All Star Regional
May 2000
SBDA Spring League
Ton80
Barrow Long, Dale Robison, Stacy Manning, Kim Lawrence, Ted Barnett, Kevin McInnis,
Robert Lawrence, Tim Munn, and Vince Newton
RO9
Robert Youngman (2) and Robert Lawrence
Playoffs Ton80
Dale McInnis, Kevin McInnis, Dale Robison, and Gaylon Fergason
ADO lll-3 Regional Allstars Ton80
Dale McInnis

---
AND>>>we have been chosen for a very special celebration! Read story below in ADO news table.
2000
September, 2000
Anniversary Tournaments Announced
SBDA Chosen! Check It Out!
29 July, 2000
Competition For World Cup Team 2001 Under Way
Cricket Championships Slated for Fall; ADO Saddened by Member Deaths
16 July, 2000
Blueberry Hill's Joe Edwards Receives Community Award
Results of New ADO Survey Will Help Determine Future Programs
16 June, 2000
New Youth Program Manuals Now Available
Volunteers and Party People Sought; WDF Rules on Breakaway Points
4 June, 2000
U.S. Team Playoffs Approach
New Locale for 2001 Masters; Survey Response Needed
14 May, 2000
2000 Maters Team Complete
ADO Revises By-Laws, Begins Anniversary Plans
7 May, 2000
Carter is Perfect in Cricket
ADO Partners with Bulletin Board; Youth Playoffs Approach
16 April, 2000
ADO Issues New Guidelines For Playoffs
National Youth Dart Day declared
7 April, 2000
American Darts Organization To Give Away $10,000
Space Coast Supports Youth; ADO Signs with Sports Site
17 March, 2000
National Ambassadors Team for 2000 Named
Lim Gets Award; Road to Vegas Begins in April
3 March, 2000
Election Results are in
Some positions still undecided; Summer events announced
2 February, 2000
Six U.S. Players World-Ranked
Bromberg Makes Sports Illustrated List; 21 Million Play Darts in U.S.
15 January 2000
New Century Cricket Champions Crowned
New member perks, playoff lineup highlight start of year
1999
17 December 1999
Wollaston Headed to Embassy
Members Invited to Share Creativity
7 December 1999
Bromberg Makes Top 8 at Masters
Cricket National Finalists Announced
21 November 1999
ADO Completes Regional Realingment
New Twists to Playoffs, Fee Adjustments Also Made at Fall Meeting
23 October 1999
Masters Team will Converge on London
Cricket Regionals on Horizon
17 October 1999
England Claims World Cup
American Teams Place in Top Quarter of 32-team Field
21 September 1999
ADO Members to get Dartboard Deal
29 August 1999
Regional Realignment to be Finalized in November
Board Announces Changes for Masters Team; Elections Slated
20 August 1999
Umberger, Bromberg, Cable Claim ADO Titles
ADO Signs New Sponsorship Contract
4 August 1999
World Cup Sponsorship Add Up
Youth program attracts attention, too
21 July 1999
ADO Names World Cup Team, First Junior All-Stars Coming to Vegas
Women to Defend World Cup Title; Number of Youth Finalists Doubles
22 June 1999
American Team Makes it's Mark Down Under
Marienthal, Brown Take Doubles Title
9 June 1999
ADO International Team Finalists
From Blueberry Hill to the Australian Grand Masters......
1 June 1999
ADO World Cup Team Update (revised)
5 May 1999
International Playoff Winners Headed to Australia
ADO Proposes New International Event
17 April 1999
ADO Names Official Web Site
Former U.S. and World Cup Champion Nicky Virachkul Dies
28 March 1999
ADO Begins Plans For All-Star, Youth, National 501 Championships
Board Votes to Make Cricket, 501 Parallel Programs in 2000
9 March 1999
Preparations For August Gala Events Begin
$10,000 Bonus to be Offered for Perfect 501 Game; 1999-2000 Calendars Ship
26 February 1999
ADO Names 1999 National Team
New Safety Data Good News for Darts
13 February 1999
1999 Cricket Champions Crowned
Scholarship Fund Gets Boost; Board Meeting Set
16 January 1999
Seven U.S. Players In Top 20 Of WDF Rankings
WDF Introduces Web Site; Barneveld Repeats as Embassy Champ
2 January 1999
ADO Will Offer Perfect Game Prize Again In '99
Membership, calendar, international playoffs first focus for new year