For immediate release March 17, 2000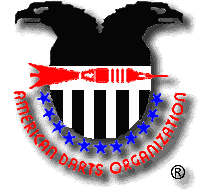 NATIONAL AMBASSADORS TEAM FOR 2000 NAMED
Lim Gets Award; Road to Vegas Begins in April
Anaheim, Cal. The American Darts Organization extends congratulations to the 2000 National Ambassadors. This
group of individuals achieved the highest championship point totals in 1999 among male and female darters. The
women's representatives-Stacy Bromberg, Nevada; Marilyn Popp, Connecticut; and Lori Verrier, Oregon-have shown
the strength of their skills over time and collectively have represented the U.S. overseas in dozens of events. .
The men's team consists of representatives from across the U.S.: Paul Lim, California; Dan Lauby, Indiana; Dieter
Schutsch, Nevada; David Marienthal, New Jersey; Luis Martinez, Texas; and Steve Brown, Missouri. Schutsch and
Martinez are newcomers to the group.
All six players who represented the U.S. at the last World Cup in South Africa are represented in this group.
The National Ambassadors Team will earn trips to the Accudart North American Open where they will compete
in the ADO's championship events prior to the open tournament. The Board of Directors will finalize plans for those
activities next weekend at their semi-annual board meeting.

---
Paul Lim, 1999 Championship points winner, recently received another honor as well. During a trip to his native
Singapore, Lim was named one of the top 50 athletes of the 20th century by the Singapore Sports Commission. "It was
quite an honor," Lim said.

The honor made Lim the second American darter to go down in the annals of sports history for their
accomplishments in the 20th century. In December, Stacy Bromberg was named one of the top 50 athletes in the state
of Nevada by Sports Illustrated.
---

Most of the regional playoffs for the Masters are complete and the National finals are scheduled in conjunction
with the Cleveland Extravaganza in May. Meanwhile, all interested members are reminded that local/association playoffs
for the annual East-West All-Star Team must be complete no later than April 16. Regionals are scheduled in May, and
because of a crowded May calendar, regional directors and area managers have been given some flexibility in scheduling
these events to best accommodate the largest possible number of players.

The East-West All-Star Match also will have a new twist or two this year that the board believes will add
excitement to the event. Final details will be completed next weekend at the board's semi-annual meeting and announced
shortly thereafter.