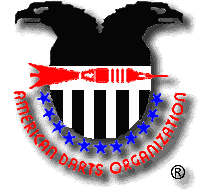 2000 MASTERS TEAM COMPLETE
ADO Revises By-Laws, Begins Anniversary Plans
For immediate release May 14, 2000
Anaheim, CA Forty-four finalists competed in Cleveland prior to the Cleveland Dart Club's Extravaganza dart
tournament for the right to represent the U.S. at the 2000 Winmau World Masters in December. And, as has become
common in recent years, there are some new faces among the winners.
Scott Wollaston of River Bend, La. will make his third appearance in as many years in the Masters this winter.
Though he has not yet cracked the money rounds at the Masters, Wollaston earned a coveted spot in the Embassy
World Professional tournament last year by virtue of his performance in the open tryouts for that invitational last year.
Wollaston will be accompanied by Region 5-4's Ray Carver, who ranked No. 23 nationally last year, making his first
appearance as an international player for the ADO; Frank Hernandez, Stockton, Cal., who finished 1999 tied for the
No. 28 spot and Missouri's Steve Brown, a member of the 2000 National Ambassadors Team by virtue of his No. 5
finish in 1999 rankings. Brown, who was recently elected region 6-2 director for the ADO, earned the final spot in a
tie-breaker with Accudart North American 501 champ John Kramer, Laguna Beach, Cal., who will be the first alternate
for the men's team. Others in the final round robin of eight were: Mark Goodwin, John Kuczynski and Davis Snider.
Stacy Bromberg, Las Vegas, last year's No. 1 points champion and the only U.S. dart player named among
Sports Illustrated's top 50 sports players from each state last year, will once again represent the U.S. on the women's
side. She will be accompanied by New York's Marcia Loche, who ranked No. 10 among the women in 1999 points
and hails from one of the most competitive regions for women in the U.S. Alternates among the women are semi-finalists
Pam Patton, Denver, Colo., who ranked No. 6 nationally last year, and San Francisco's Patricia Miller.
Part of the intent of the ADO playoff program is to enable players to hone their skills and work their way up to
national and international representation, a reward not available in all countries, many of which appoint such teams. The
preponderance of new faces on these ADO teams in recent years reinforces the overall success of the ADO program.
---

At the last board meeting in March, changes to the ADO By-Laws were approved that clarify election procedures
and tie-breakers in elections for ADO positions. These changes, in addition to changes made in 1998, are available from
ADO board members. They do not yet appear in the bound copies of the By-Laws, but will be included in the next
printing . Any member requiring a copy of these changes may obtain one by contacting an ADO board member. In
addition, the board will examine the possibility of changing voting rights and eligibility for ADO executive offices at the
next two board meetings in 2000. ADO representatives and regional directors who wish to make suggestions on that
issue should direct comments to their Area Managers in writing.

---

In conjunction with the ADO's 25th anniversary next year, longstanding ADO-sanctioned tournaments will be
invited to be part of the organization's celebration. Tournament hosts interested in taking part in this program may get
details from President Sandi Cain at (949) 497-2680 (messages 8 a.m.-10 p.m. Pacific Daylight Time only), or
scainado@aol.com Longtime local associations will also be recognized, but details have not been finalized.