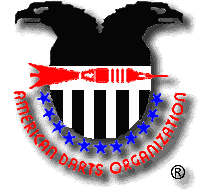 CARTER IS PERFECT IN CRICKET
ADO Partners with Bulletin Board; Youth Playoffs Approach
For immediate release May 7, 2000
Anaheim, CA Roger Carter, Accudart NAODT cricket champ and former member of the ADO National
Ambassadors and World Cup teams took some time off from darts last year, but it hasn't affected his ability in the sport.
At the recent Fire on the Mountain Classic 2000 hosted by Western Carolina Darts Association, Carter threw a perfect
8-dart cricket game in the men's singles quarter-final round. The game, against Lee Bowman of Tennessee's Greater
Tri-Cities Darting Association, was the second perfect cricket game recorded in ADO tournament history. The previous
perfect game, thrown by Larry Butler, was in 1993. Tournament cricket statistics have been kept since 1981. Carter
came within one dart of a perfect cricket game last year at the Accudart NAODT finals-a feat that would have been
worth $50,000.
---

The ADO has partnered with Community Explorer (CommunityExplorer.com), Santa Ana, Cal., to provide a
bulletin board for each ADO club to help publicize activities and facilitate communication among members. Called "light
sites," the bulletin boards will allow each club to list contact information, announcements and upcoming events as well as
host a private section for club members only. The service is provided without charge; clubs that already have websites
may link the bulletin board to their websites. As a national partner, the ADO and its local affiliates will receive 80% of
national revenue generated for Community Explorer as a result of the partnership; local clubs may also generate revenue
through advertisements on their own bulletin boards. The system is expected to be operational by June 1. Instructions for
participation will be available from all ADO officials by that time.
---

The 1999 National Sporting Goods Association's survey of sports participation ranks dart-throwing the No. 16
most-popular sports activity in the nation, putting it ahead of baseball, No. 18; soccer, No. 20; and tennis, No. 27. The
ranking was also reported in a recent edition of Street & Smith's Sports Business Journal.
---

At the spring meeting, the ADO board of directors approved a provision for "special sanctioning" under which a
tournament may request an exception to compliance with a sanctioning requirement or tournament rule due to sponsor or
media requirements for the event. The special sanctioning, which must be approved by the ADO executive as well as the
area manager, will be granted for one-time use only, on a case-by-case basis. The board also rescinded a policy from
the '80s that allowed "blanket sanctioning" of several tournaments by the same promoter under one sanctioning
application.
---

It's a busy time of year for ADO members. Regionals for All-Stars will be held over the next couple of
weekends-this is the last chance for players to get in on the action and have a chance at the ADO's $10,000 perfect
game prize in Las Vegas in August. Local affiliates also need to get busy with youth qualifiers, which must be completed
by May 28, and USTeam (formerly called Internationals) qualifiers need to be complete by June 25. USTeam winners
this year will comprise half the World Cup team for 2001, which will compete in Malaysia.