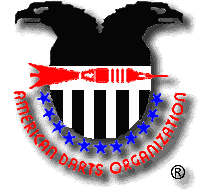 For immediate release: November 24, 2000
Sandi Cain, President ADO
2001 NATIONAL PLAYOFF SITES CONFIRMED
New Locations for WDF-Ranked Tournament Chosen

Anaheim, Calif. Due to increased interest from member organizations in hosting national finals and in an effort to
enhance the ADO's presence in a variety of locations through the national playoff program, the executive of the American Darts Organization finalized the 2001 playoff sites for the ADO program by voting for a new venue for the East-West All-Stars, National 501 Championships and National Youth Championships.

In addition, in order to create additional enticements for the world dart community to attend tournaments in the U.S., the executive voted for a change in the tournaments chosen for WDF ranking in 2001.
The moves came on the heels of changes and pending changes in the tournament calendar as tournament hosts
moved traditional tournament dates to new slots. Since national playoffs are held in conjunction with sanctioned
tournaments, these calendar changes meant looking at new options for portions of the playoff program.
The line-up for 2001 is: Masters with the Charlotte Open the first weekend in April; East-West and related
championships with the Cleveland Extravaganza the last weekend in August; U.S. Team with the Empire State Challenge in September and Cricket with the Bluebonnet Classic in January 2002. The ADO Board of Directors is working with the Charlotte Convention and Visitors Bureau and will do the same with Cleveland to provide every possible amenity to players participating in the events that are in new locations. In a similar move, the ADO executive determined that two of the three WDF-ranked tournaments had not drawn much international participation in the past two years. As one of the largest (in membership) WDF members, the ADO is entitled to grant WDF ranking to three tournaments each year. In
choosing the new locations, the executive considered total prize money, tournament history, time of year and locations spread across the country. The tournaments that will have WDF ranking in 2001 are: Las Vegas Open in February, Cleveland Extravaganza in August and Witch City in November. Witch City has been ranked for the past two years. ADO members, who typically do not travel widely in the European circuit, will again have three chances to earn international ranking at U.S. tournaments.
Traditional ADO Calendar Returns!
The 2001 ADO tournament calendar will be shipped before Christmas to member organizations and individual
members whose 2001 dues are paid. Calendars were originally scheduled to be shipped by Thanksgiving, but uncertainty about some tournament dates forced a two-week delay. The 2001 calendar reverts to the January-December format after an experiment with an April-March format did not receive favorable response.
As other members renew their dues, the 2001 calendars will be shipped to them.